PyData London 2018 Conference Experience Report
Over the last few days I attended PyData London 2018 and wanted to share my experience. The PyData series of conferences aim to bring together users and developers of data analysis tools to share ideas and learn from each other. I presented a talk on building a recommendation with Python and Neo4j at the 2016 version but didn't attend last year.
The organisers said there were ~ 550 attendees spread over 1 day of tutorials and 2 days of talks. From what I could tell most attendees were Data Scientists so I was in the minority as a Software Developer.
tl;dr
Text Analysis using Tensorflow is the (new) hotness.

Everything else seems to centre around scikit-learn's API.

The on site childcare the conference provided was a great idea. Hopefully that will catch on at other conferences.

This is a great conference for learning how to apply technology to solve data problems.
There were a lot of talks so I'll just give a shoutout to a few of my favourite ones.
Friday
Gilbert François Duivesteijn's tutorial about tagging his team's Slack messages was very interesting and something that I hadn't thought about before. Gilbert's team have a channel where they indicate if they're working from home, off sick, at a client meeting, etc and he wanted to automatically classify these messages. It was mostly standard scikit-learn stuff except Gilbert wrote his own tokenizer because people often don't punctuate Slack messages properly and this was messing up the classifier.
After getting an introduction to text analysis by Gilbert I was hoping to attend Kajal Puri's talk about building text classification models, but that one was cancelled. At the last minute Vincent D. Warmerdam stepped in and did a mini tutorial showing how to use the pomegranate library to do probabilistic modelling. It was very cool but I'm not sure that I have a problem to use it on at the moment.
Saturday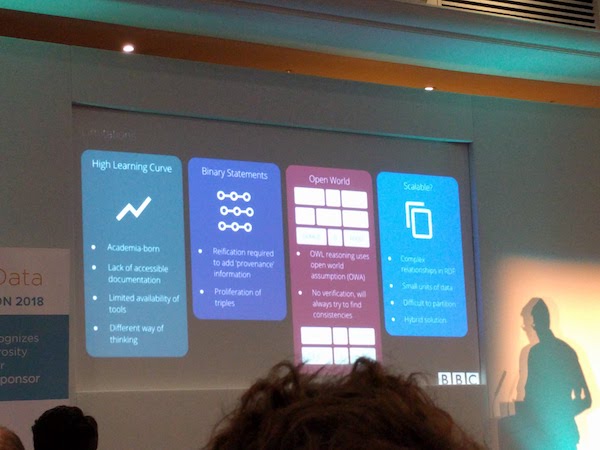 I also watched Alistair Lynn's talk about A/B testing in which he talked through his experience A/B testing features thread.com. My main take away was that it's much easier to manage multiple tests if you assign users into buckets and assign the control or test based on the bucket rather than dealing with users individually. He also emphasised the need to be aware of our own tendency to confirmation bias when looking at test results.
Sunday
Sunday opened with a keynote by Emmanuelle Gouillart about her experience working on scikit-image and encouraged others to get involved with open source science. There was also an excellent section on the importance of well written documentation to help get people ramped up on your project. Emmanuelle also thanked the PyData organisers for having onsite childcare, without which she may have been unable to attend.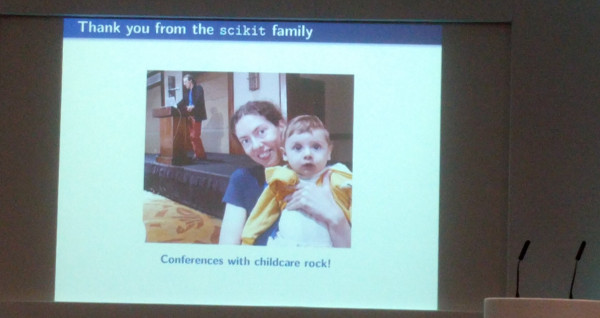 As one of my side projects I'm trying to work out how to parse ingredient names from recipes and I'm not sure where to start, so I was quite happy to attend a talk by Carsten van Weelden where he showed how to use Tensorflow to solve a similar problem. Carsten's team are pulling job titles and company names out of resumes using Recurrent Neural Networks and I think I now know enough to get started with my problem. The slides from this talk were very helpful.
Overall it was a really enjoyable conference and I'm looking forward to the 2019 version! If you can't wait that long there's always PyData Berlin which is on 6-8 July 2018.